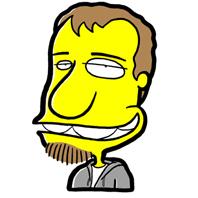 Tjeerd Royaards
"There is more than one truth"
Amsterdam, Netherlands
itdibaran üye October 06, 2008
www.tjeerdroyaards.com
1 290 521
Görünümler
354
Yorumlar
37
favori edildi
Çalışmalarım üzerine
İsim
Tjeerd Royaards
Doğum tarihi
1980-02-19
Eğitim
Political Science (University of Amsterdam)
tarz
'Klare lijn' (clear line)
kullandığım aletler
Finleliner, graphic software
Hakkımda


Tjeerd Royaards is a Dutch editorial cartoonist living in Amsterdam. He has worked as a cartoonist for seven years, ever since getting a master's degree in Political Science at the University of Amsterdam. His work has appeared in Dutch dailies NRC Next, De Pers and De Volkskrant, German newspapers Handelsblatt and Hannoversche Allgemeine and Swiss weekly Weltwoche. In 2010, Tjeerd received a 'Citation for Excellence' in the United Nations Political Cartoon Award. Tjeerd is also Editor-in-Chief of Cartoon Movement, a global platform for editorial cartoons and comics journalism.
üyeler Tjeerd Royaards
(45)