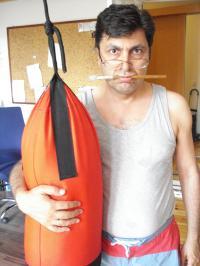 Hayati
"Humour for President"
Berlin, Germany
itdibaran üye July 05, 2009
www.siyah-beyaz.com
2 965 634
Görünümler
2 972
Yorumlar
166
favori edildi
Çalışmalarım üzerine
İsim
Hayati Boyacıoğlu
Hoşlandığım-
karakter
Tomy Ungerer, Mordillo, Ernst Kahl, Saul Steinberg, Ranan Lurie, Loriott, Topor, Haderer, Plantu, Oguz Aral, Turhan Selcuk, Tan Oral, Semiramis Aydınlık, Roland Topor
Hakkımda
Hayati Boyacioglu lives and works in Berlin/Germany. He was born 1960 in Istanbul, Turkey. His started his Career as a caricaturist in his early high school years. During his student Years in Berlin/Germany (German and journalism) he sophisticated his caricatures based on monitoring daily situations, focused on the themes racism, immigration, and encounter. He published in 94 a caricature-album called "intermigrational meetings" (integrationale Begegnungen) and had 20 exhibitions with its caricatures. For over 20 Years his creating and illustrate Covers for the "Dir Brücke"(The Bridge), which key issue is antiracist Politic. In the 90´s he draws weekly caricatures about political situations in Germany, at a local Tv-Station called AYpa-TV By the time he started to work for several Newspapers. He was 2004 the co-founder of the first Turkish-german Humormagazine "Don Quichotte". Member and active participant of "Cartooning for Peace" founded bei Plantu with Mr. Kofi Anan. His worked has appeared in several newspapers, magazines, calendar and even schoolbooks.