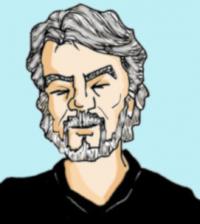 vasilis dagres
"Ενα Σκίτσο , Χίλιες Λέξεις "
pyrgos, Greece
itdibaran üye May 08, 2017
dagresskitsa.blogspot.com
710 377
Görünümler
60
Yorumlar
3
favori edildi
Çalışmalarım üzerine
İsim
vasilis dagres
Doğum tarihi
1963-05-05
Eğitim
university
tarz
GIMP
kullandığım aletler
pencil, pen , pc
Hakkımda
I was born α May 5, 1963 in the town of Argos in Peloponnese, Greece. I studied Surveying Engineer in Thessaloniki . Where I had worked and ending worked and aboute 20 years. all these years I was sending my cartoons to new papers magazine and I was participating in many cartoon exhibitions here in Greece and aboard . My own cartoons hane been published and continue to be publishing, in various ubilications such as local newspapers '' Dawn '', '' READER '', '' KARYA '', etc. Also , a book Book of shories by Chekhov, has published with my own cartoon. The last 10 years I live in Pyrgos which is 10 kilometers from Ancient Olympia, Ilia.
üyeler vasilis dagres
(39)