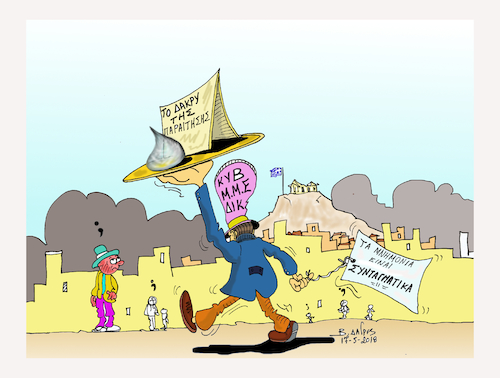 599
GREECE

1
Applause

yapan
vasilis dagres
tarih 21. May 2018
He resigned from the post of Chief Judge of the state, because it will reduce the amount of pensions.
What they want and lenders of Greece.
The same Supreme Court with him as president, had recognized that it is legitimate understandings forced to sign the Greece with its creditors (the IMF, the European Central Bank, and the European Union) for a debt not there should be
Παραιτήθηκε από το αξίωμα του ο ανώτατος Δικαστής του κράτους , γιατί θα ελαττωθεί το ποσό των συντάξεων .
Αυτό θέλουν και οι δανειστές της Ελλάδας .
Το ίδιο ανώτατο δικαστήριο με τον ίδιο ως πρόεδρο , είχε αναγνωρίσει , ότι είναι νόμιμα τα μνημόνια που αναγκάστηκε να υπογράψει η Ελλάδα με τους δανειστές της ( το διεθνές νομισματικό ταμείο , την ευρωπαϊκή κεντρική τράπεζα , και την ευρωπαϊκή ένωση ) , για ένα χρέος που δεν θα έπρεπε να υπάρχει .
Politika » National/Domestic International Taxes Pension Economy & Money Jobs & Social Other Politicians Democracy

paradise papers

music

Meeting Donal...