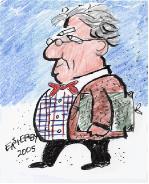 EASTERBY
"CARTooNS 'R me"
Nürnberg, Germany
itdibaran üye February 20, 2008
4 150 106
Görünümler
444
Yorumlar
52
favori edildi
Çalışmalarım üzerine
İsim
Derek Easterby
Doğum tarihi
1939-03-21
Eğitim
School of Life
tarz
Put on paper fast
kullandığım aletler
Pens,Pencils, Photoshop, Illustrator
Etkilendiklerim
Searle
Hoşlandığım-
karakter
None
Hakkımda
Born in London . First cartoon published in 1956, 50 years on he has still got lead in his pencil. . All the years produced and sold cartoons across Europe, has appeared in various collections and exhibitions. Never wonaprize!