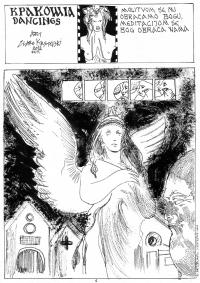 vizant1
"THINK GLOBALLY,ACT LOCALY !!"
Bitola, Macedonia
itdibaran üye January 02, 2012
www.vizant.org.mk
231 587
Görünümler
25
Yorumlar
2
favori edildi
Çalışmalarım üzerine
İsim
Zlatko IV KRSTEVSKY
Doğum tarihi
1969-02-08
Eğitim
Artist
tarz
ink,color ,aquarele,oil on canvas
Hoşlandığım-
karakter
freedom tito
Hakkımda


Born in Europe.Graduated Fine Art School in Skopje-major painting.So far ,he had organized 31 solo exhibitions with paintings,drawings in Macedonia ,Serbia,Slovenia.Curently ,he is the presidentof the centre for visual arts ,,Byzant,,inventing new urban cultural space with modern approach towards international art scene ,cartoons,comics ,mail -art,painting,photography and performance. He is author and photographer of four books about cultural heritage of Prilep.He is working and living in Prilp and Dubrovnik.Group exhibitions :Japan,China ,Montenegro ,Slovenia,USA-New York Soho Art 94 ,Luxemburg ,Norway ,Cuba,Brasil ,Sweeden ... Awards : 1987-Skopje-special prize for comic art Studentski zbor-Skopje. 1987-Skopje-Film youth of Macedonia -GKSSMM . 1988-Skopje-KIKS-Salon awards for comic arts. 1984-Prilep 9-th September of city Prilep. 1997-Belgrade- Ekological cartoon ,Power of Nature ,, 1988-Cambridge-England,international man of year 1999-Prilep-3th November ,,of city Prilep , 1999-Amesbery -USA-,,UNCLE WALTER,, prize for graphic art. 2002-Cambridge-IBC England -,,21th Centry Awards for Achievements ,, 2003-Belgrade -Serbia -,,Silver pint ,,Museum of ciyy Belgrade. 2003 -Titov Veles -year award ,,Vision,, for sience Fiction Arts. 2005-China-Nanxing -LM -international expo cartoon Art. 2007-Slovenia-Koper -3-th cartoon Art awards. 2008-Lviv -Ukraine -Museum of history of religion.