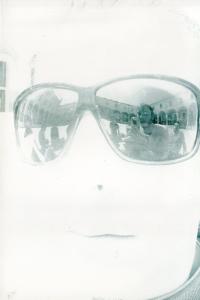 gianlucasanvido
"Senza Arte non siamo nessuno"
Venice, Italy
itdibaran üye March 27, 2008
gianlucasanvido.blogspot....
165 500
Görünümler
31
Yorumlar
13
favori edildi
Çalışmalarım üzerine
İsim
Gianluca Sanvido
Doğum tarihi
1981-12-18
Eğitim
fine art accademy, sculptor.
tarz
for drawing : water colours, ink, pencil, color pencil; for sculpting: clay, chalk, iron, bronze, stone, yuta canvas and bee wax.
kullandığım aletler
my mind
Etkilendiklerim
we live everyday in a beautiful world, life is my muse.
Hakkımda


Studies : 2000 - High school diploma at the Artistic Lyceum of Venice (Fine Arts),valutation 81/100; 2001 - Comics history & design diploma held by Andrea Artusi from Musa Edizioni(designer of Bonelli's Dylan Dog, Nathan Never and more); 2004 - Participation diploma for a marble sculpting stage held in Statuaria Marmi (Carrara, Italy); 2007 - Traditional Sculpture graduation at the Accademia di Belle Arti (Fine Arts Accademy) of Venice, in Professor Andrea Grassi's class, valutation 110/110 cum Laude. Working experiences : 2001 - clerk in the fine arts store Angeloni; 2002 - Cooperation with the Caffè Sconcerto Theatre as scene painter; 2004/2008 - Pizzaiolo in several pizzerias in Venice; 2006/2008 - Cover designer for the Mestre People University's newspaper. Expositions: - "Esperienze Veneziane" April/May 2005 - Graphic works show at Caffè Vittoria in Cecina (Tuscany); - "Antropomorfe", May/june 2005 - Sculpture and painting show at the Leon Gallery in Martellago (Venice); - "Atelier Aperti", 51st biennale of Venice 2005 - Fine Arts Accademy's sculptures and furniture elements exposition; - "Dal letame nascono i fiori", October 2005 - exposition of furniture elements, created with recycled matherials; - "Dis-nascondimento", February 2006 - Sculpture show in Giudecca island (Venice); - "Untitled", April 2006 - Sculpture exposition held in the "Spiazzi" Cultural Association (Venice); - "Noi happening e voi?", May 2006 - Live Sculpture making in the "Spiazzi" Cultural Association in Venice; - "Big Bang", July 2006 - Fine Arts Exposition in the Casa de Cultura S.Lorenzo del El Escorial in Madrid (Spain); - "Biennale of Venice, International Architecture Exposure", September 2006 -Recycled matherial made furniture show in the Zitelle's Multimedia Center CZ95; - "Senza peso", April 2006 - collettive fine arts show in Palazzo Mondadori's showroom, San Marco Square (Venice); - "Riciclato ad Arte", May 2007 - Recycling art competition held in the Bissuola Park, Mestre(Venice); - "Riciclo ad Arte", June 2007 - Recycle show in Mestre (Venice); - "Genius Loci, The Venice's Secret Garden", June/July 2007 - International Contemporary Art Exposition, Site-in Installation, powered by "Gruppo 10" and "A+A gallery" (Venice); - "07-07-2007", July 2007 - Sculpture exposure in Maretti Atelier in Padova (Padua, Italy); - "Castellarte", July/August 2007 - International Contemporary art show in Montepagano, Roseto degli Abruzzi (Abruzzo, Italy); - "Gianluca Sanvido/Mirko Morello", September 2007 - Double personal show in collaboration with UNICEF & Profili d'arte Association, Padova (Padua, Italy); - "Civic Christmas", December 2007 - Street Exposition in Padua (Italy); - "Artist Wishes", December/January 2007/2008 - painting show (Italy). Knowleges: Basic english, Basic Japanese, Average Informatics; Interests: Art, Music, Friend, Traveling, Cooking, practicing Kyokushinkai karate do, play sports.