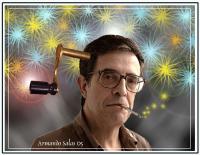 Salas
"Cartoonist"
Ferrol, Spain
itdibaran üye February 08, 2008
www.artwanted.com/salas
675 261
Görünümler
134
Yorumlar
15
favori edildi
Çalışmalarım üzerine
İsim
Armando Salas
Doğum tarihi
1946-01-30
Eğitim
Bachelor
tarz
pen,ink,watercolor,oil,acrylic,gouache
kullandığım aletler
Pencil, pen,brush,computer
Etkilendiklerim
Not definite
Hoşlandığım-
karakter
Wizard of Id
Hakkımda
Fine artist and award winning cartoonist. Over 40.000 artworks published during 40 years. His cartoons and comic strips are at Cartoon Art Museum, Museo do Humor de Fene, Ticonderoga Cartoon Museum and Bulgarian museum Dom Na Humora i Satirata. --- International prize Curuxa de Honra 2005 Award given by Museo do Humor de Fene (Spain). --- Author of poster-tribute that presided over the international homage to Russian journalist Anna Politkovskaya at Notre Dame (Paris, January 2007). --- His name is listed in The World Encyclopedia of Cartoons, Atlas Español de la Cultura Popular, Enciclopedia Galega Universal, Diccionario de uso de la Historieta en España, Lambiek Comiclopedia and Wikipedia. --- Solo or collective exhibitions: Fene, Ferrol, Ticonderoga, San Francisco, Detroit, Hannover, Berlin, Gabrovo, Warsaw and Moscow.