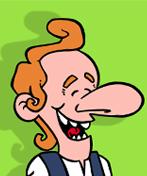 Jura Karikatura
Vrbovec, Croatia
itdibaran üye November 20, 2012
jurakarikatura.blogspot.c...
152 703
Görünümler
34
Yorumlar
11
favori edildi
Çalışmalarım üzerine
İsim
Krešimir Kveštek
Doğum tarihi
1975-05-02
Hakkımda


Krešimir Kveštek, was born in 1975 in Croatia and studied graphic at the Graphic University in Zagreb. He is a cartoonist, illustrator, animator and graphic designer. His work has appeared in various publications across the Croatia. As part of his many interests, he has written, drawn, and produced, children's books, short animated move, and a series of T-shirts upon which his caricatures were printed.