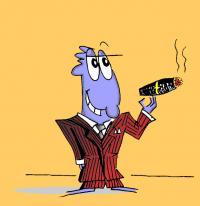 Danno
"I love mankind,it's people I can't stand!"
London, United Kingdom
itdibaran üye June 28, 2010
https://urbangerbils.devi...
186 476
Görünümler
17
Yorumlar
2
favori edildi
Çalışmalarım üzerine
İsim
Dan Bowden
Doğum tarihi
1971-08-08
Eğitim
London College of Communication
tarz
Line art
kullandığım aletler
Pen,Pencil,Paper,Photoshop
Etkilendiklerim
Charles M Shulz,, Bill Watterson, Gilbert Shelton
Hoşlandığım-
karakter
Peanuts
Hakkımda


I live in North London with my wife Erin and baby girls,Shayla-May and Alana. I do a normal day job and draw cartoons by night. My main passion is drawing a strip called URBAN GERBILS which was published on a weekly basis in The Camden New Journal and two of its sister papers from October 2011 to June 2012. It was dropped due to lack of space. Currently seeking a publication.
Portfolios
URBAN GERBILS (27)