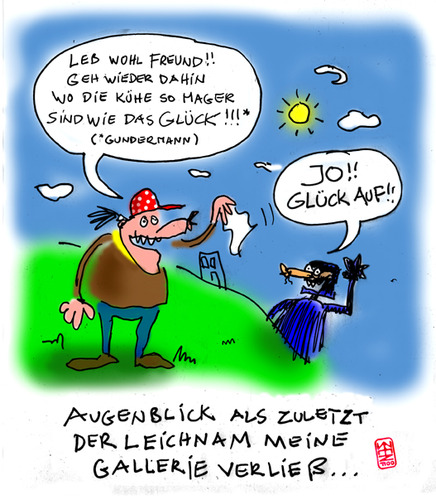 5826
leichnam zu besuch

yapan
zenundsenf
tarih 02. December 2010
tribute to the obscure saxon cartoonist karsten breitung aka "leichnam" (the corpse/ el cadáver)
http://de.toonpool.com/artists/Leichnam_4261
translation headline: the corpse for a visit
translation subtext:
the moment when leichnam left my gallery.
translation bubbles:
fare well, my friend! go back there where the cows are so lean like the happiness! (songtext from an eastgerman songwriter named "gundermann")
leichi: jo,miners' greeting!!!
Ünlüler » Philosophers Artists & Designers Comics & Fairy Tales
Sanatcı üzerine bilgi zenundsenf

Lügen über Is...

VIA-FACE 1

streichler un...