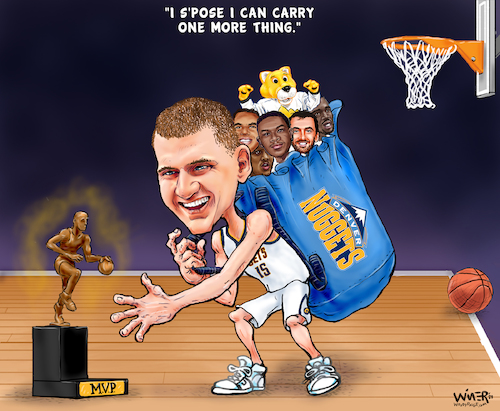 344
NBA Star MVP Carrier

1
Applause

yapan
karlwimer
tarih 12. June 2021
Cartoon for WoodyPaige.com, a leading online platform for sports in the US and abroad.

Nikola "Joker" Jokic did something that no NBA basketball player selected below 15th in the Draft (and no prior Denver Nugget) had ever done: he won the National Basketball Association Most Valuable Player Award.

Selected at 41 in the 2014 NBA Draft, Serbian native Jokic blew away that previous record (Steve Nash and Giannis Antetokounmpo were selections at 15 in 1996 and 2013, respectively). He was also only the sixth international player to win the award.

The typical front-runners including Giannis, LeBron, Harden, Embiid, and Durant missed significant time due to injury, effectively knocking them out of consideration. But even if they had stayed healthy, it would have been tough to dislodge Jokic.

He had his best career statistics: ranking 12th in the NBA in scoring, ninth in rebounding and sixth in assists. And he was a dream come true for the "quants"; leading the league in Player Efficiency Rating, win shares, Box Plus/Minus and Value Over Replacement Player.

Somehow he did all this and led the Nuggets to a 3-seed in the hyper-competitive Western conference, while his team was decimated by injuries. The only other clear-cut star on the team, Jamal Murray went down with a campaign-ending injury mid-season. Then the rest of the guard corp (Barton, Morris, Dozier) missed huge chunks of the season. Often working with two 2-way players (Austin Rivers and Shaq Harrison), Jokic still was able to find win after win.

What makes it all that more remarkable is that the offense runs through Jokic, and he provided such a deft touch at distributing as well as finishing. He made teammates better, while helping establish an all-for-one attitude that made up for weaknesses. His teammates seem to love Jokic and his low-key approach, humility, and frankly, goofy nature. He carried this team, and did with ease and grace.

At this point in time, all of this might not make a difference as the Nuggets are in danger of being swept in their second round efforts against the Phoenix Suns. Triple doubles sometimes can't make up for an opponent that is physically superior, plays great D, and picks the right times to get hot.

But the NBA MVP Award is an award for the best player in the regular season, and "the Joker" earned it.
Spor » Ball Sports Winter Sports Other Sports Championships
nbasportsbasketballnikolajokerjokicdenvernuggetsserbiamvpawardinternational