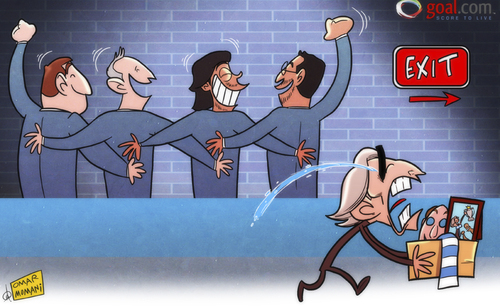 1673
Mancini leaves

3
Applause

yapan
omomani
tarih 17. May 2013
Exactly a year after leading Manchester City to their first ever Premier League title, manager Roberto Mancini has been sacked.

The announcement came as a surprise to exactly no-one, as defeat in the FA Cup final against Wigan capped off a disappointing season for the Italian and his side.

An early Champions League exit, followed by a dismal defence of their Premier League crown, saw the City board run out of patience with the Italian.

Manuel Pellegrini is the favourite to replace Mancini in the hotseat and will be hoping to get the the club's fans doing the Poznan again by returning City to winning ways.
Spor » Soccer/Football Championships
davidplattferransorianokhaldoonalmubarakmanchestercitymancinipoznansheikhmansourtxikibegiristain
Sanatcı üzerine bilgi omomani

Big Sam shot ...

Giggs History

Europes card ...