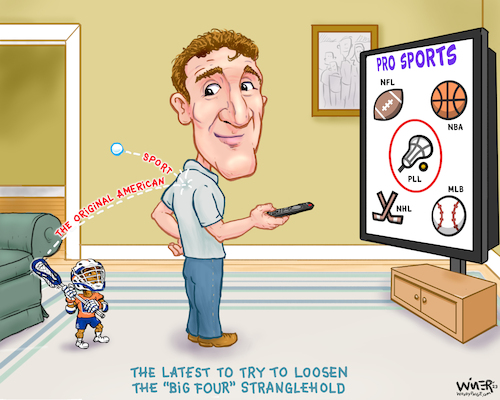 Lacrosse Plays with Big Boys
#429678 / 467 kez izlendi
Latest for WoodyPaige.com
For decades, the giants of the American, professional sports landscape (the NFL, NBA, MLB and NHL) have dominated the attention of national audiences in stadiums and on the airwaves. Individual sports like golf and tennis (and in earlier times, boxing) will always draw eyeballs to their annual tournaments, but men's and women's soccer leagues and the WNBA have not significantly moved the needle. Attempts to extend football to non-traditional seasons have failed spectacularly. College sports (you can honestly lump into the "Pro" category these days) deserve a separate cartoon and discussion.

Interestingly, a sport that's been around for a while (actually, quite a while, but more about that later) is now making some noise in the jockeying for attention in the world of American pro sports. Lacrosse, in its latest iteration of the PLL, is growing at a massive clip, thanks in part to its broadcasting relationship with ABC and ESPN. Drawn from a report earlier in the season, ABC was seeing an average of 402,000 viewers (one game with a peak viewership of 782,000). Although this is dwarfed by NFL average viewership (16.7 million), this performance is impressive compared to recent averages for the NBA (1.6 million), the MLB (1.5 million), the NHL (583,000), and for additional reference the MLS (343,000 viewers).* In-stadium attendance comparisons are another story, and some locations have not provided optimal TV optics with half-filled stands.

The league's focus has been multi-pronged, including aggressive social media efforts drawn from earlier in the season show a 146% increase in engagements, 186% increase in views, and 80 percent increase in impressions (all year-over-year). Go to a game and you'll be struck by fans young and old sporting eye-catching (and not inexpensive) gear. When Russell Wilson and family showed up to a recent doubleheader in Denver, his wife Ciara sported a Cannons #22 jersey that suddenly became the best-seller in the league as PR and interest ballooned outside the regular lacrosse world.

What's changed to elevate the game in recent years? That's also worthy of another article or take some time to watch the "Fate of a Sport" documentary. After many years of slow growth by a prior outdoor lacrosse league (MLL) and the indoor NLL league that has a strong, but niche presence, Paul Rabil and his brother Mike made a bold move to raise money, pay players as full-time athletes, and build a different kind of beast. They dramatically sped up the game and found a way to showcase the significant skill, creativity and athleticism for a really fun product that those new to the sport could also appreciate and enjoy. It's rare on a weekend day where one if not two PLL moments aren't featured on ESPN's Top Ten Plays of the Day.

For many long-time fans of the game, this became especially apparent earlier in the summer when the World Lacrosse Championships were held and played under much older field lacrosse rules that don't feature a shot clock, a two-point shot, and other recent alterations. The games were plodding, deliberate affairs that seemed to sap the game of the fun and speed now regularly seen in the PLL as well in the NCAA.

Finally, perhaps what is at the core of the sport is finding resonance with new and lapsed fans of lacrosse. It is the original American sport, dating back to 1100, played by indigenous peoples long before Europeans landed on these shores. Named the Creator's Game, and now an important rallying point for the Haudenosaunee people (they captured 3rd place in the World Championships), lacrosse transcends sport and has a strong spiritual component. To its credit, the PLL has done much to honor while also educating on this unique and important facet of the sport.

There's plenty of room for improvement in all areas of the product, and the league has major growing pains ahead of it. But it's proving to be an intriguing new play in a brutally competitive space for a very old player.
Spor » Ball Sports Other Sports