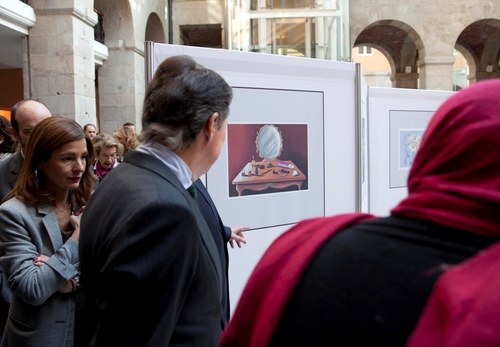 9921
Joint exhibition in Madrid

yapan
menekse cam
tarih 28. November 2013
"Apaguemos el Maltrato"
The International exhibition themed "Extinguish Violence Against Women" is opened in 25th November 2013 in Madrid where is the capital of Spain with the participation of 24 prestigious artists from 21 countries and aims to raise awareness of abuse against women. In the afternoon, it was presented in Alcorcón, the first of the 12 towns that will hold the exhibition by the hand of the Women's Institute of Madrid.

The exhibition after Madrid-Royal Mail House will be placed at headquarters at the Women Institute of Madrid for one year. During the same period, it will be exhibited in Alcobendas, Alcorcón, Aranjuez, Boadilla del Monte, Getafe, Las Rozas, Móstoles, Pozuelo de Alarcón, Soto del Real, Torrejón, Tres Cantos and Valdemoro.

Two cartoons by Menekse CAM take place in the exhibition to represent Turkey.

The all participating artists;
Angel Boligán (Mexico), Pablo Blasberg (Argentina), Menekse Cam (Turkey), Darío Castillejos (Mexico), Doaa Eladl (Egypt), Alex Falco (Cuba), Ares (Cuba), Riber Hansson (Sweden), Adán Iglesias (Cuba), Doddy Iswahyudi (Indonesia), Vladimir Kazanevsky (Ukraine), Pawel Kuczynski (Poland), Yu Liang (China), Marc Lynch (Australia), Marilena Nardi (Italy), Miel (Singapore), Enio Navarro (Spain), Victor Ndula (Kenya), Vilma Vargas (Ecuador), Elena Ospina (Colombia), Tsocho Peev (Bulgaria), Andrei Popov (Russia), Kianoush Ramezani (Iran), Ann Telnaes (USA).

The cartoons in the exhibition were collected in an album will be sent to the participating artists.
Media & Kültür » Internet Multimedia Press Education Society
abusemennovemberfifthtwentydaywomenagainstviolenceinternationalspainmadridexhibitionjoint

Izmir

technologie

Water