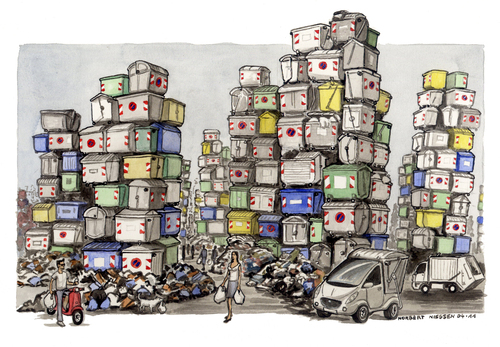 9161
Garbage city

yapan
Niessen
tarih 08. May 2011
The rubbish bins are an omnipresent element of street furniture, yet almost without us noticing. It is amazing how our mind is able to remove what we do not want to see. So the trash moves into the imaginary world of our worst dreams.
Çeviriler
(1)
ekle
Italian yapan Niessen
'I bidoni della spazzatura sono un elemento di arredo urbano onnipresente. Eppure quasi non ce ne accorgiamo. E' impressionante come la nostra mente riesca a rimuovere quello che non vogliamo vedere. La spazzatura si trasferisce così nel mondo immaginario dei nostri sogni peggiori.'
Sanatcı üzerine bilgi Niessen

Angels
Intelligent r...

gattara