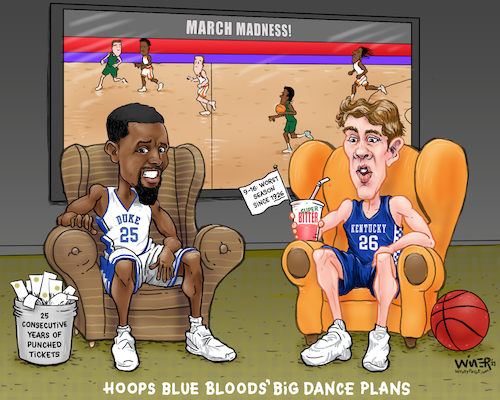 629
Duke Kentucky Out for Basketball

1
Applause

yapan
karlwimer
tarih 18. March 2021
Cartoon for WoodyPaige.com, a leading platform for sports commentary in the United States and internationally.

Hoops Blue Bloods' Big Dance Plans

March Madness (the United States college basketball playoffs) is upon us finally, but for so many reasons it just ain't the same. We missed it completely last year, crushing the dreams of many a college hoops player, as well as fans across the spectrum. This year it will be held from start to finish in Indianapolis, with a bubble approach that will create a challenge for managing 66 teams, while fending off the Coronavirus. No raucous crowds or opportunities for sports-hungry mid-tier cities to host regionals. Pools and betting will be all over the place, as the unknowns run high in this tournament.

And interestingly, the Big Dance will be missing some of its blue bloods. Past champions like Duke and Kentucky (as well as Louisville, and some other notables) will be staying home. Duke saw its string of appearances since 1995 broken, and Kentucky missed for the first time in eight years, but notably with its worst record since 1926.

It just won't feel the same without those two programs, but perhaps this opens the door for a less storied program that can break through and build something interesting. Of course, there are very small violins playing across the country for Duke and Kentucky, who've played the bully to so many other teams through the years. And even so, those same fans will miss these two hoops blue bloods, simply because they won't be there to root against.
Spor » Ball Sports Winter Sports Other Sports Championships
ncaacollegebasketballunitedstatesmarchmadnessbigdancedukeuniversitykentuckysportskarlwimer