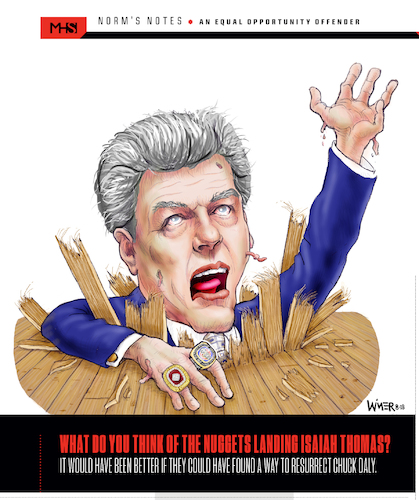 1592
Chuck Daly Coach Zombie

2
Applause

yapan
karlwimer
tarih 17. August 2018
My latest illustration/toon in Mile High Sports Magazine. When the Denver Nuggets scooped up Isaiah Thomas recently, it begged the question asked in the cartoon. For non-basketball afficionados, there was ANOTHER Isaiah Thomas, many years back, who was an All-Star for the Pistons and won a couple of NBA Championships. More importantly, his coach, Chuck Daly was equally outstanding. Alas, he passed away, and would need to be resurrected...
Spor » Ball Sports Winter Sports Other Sports
denvernuggetsbasketballnbadetroitpistonschuckdalyisaiahthomaszombie
Sanatcı üzerine bilgi karlwimer
Memorial Day 09

Sammie Powder
What Would Da...