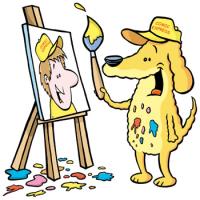 comicexpress
"Quick Quality Cartoons "
Brisbane, Australia
itdibaran üye July 07, 2008
www.comic-express.com
338 733
Görünümler
55
Yorumlar
9
favori edildi
Çalışmalarım üzerine
İsim
Phil Judd
Doğum tarihi
1966-11-09
Eğitim
Art Certificate, Diploma in Animation
tarz
Direct onto bristol board with pen and brush with indian ink. Same with some colouring. Alternatively drawing and colouring directily into Flash and Photoshop with wacom tablet.
kullandığım aletler
Pen, Ink, Brush, Wacom, watercolour, acrylic, gouche, PhotoshopCS3, Painter, Fash CS3
Etkilendiklerim
Jack Davis, Charles Schultz, Sergio Aragones, Paul Coker, Frank Frazetta, Al Williamson, Bill Elder, Gary Clark, Gerard Piper, Paul Rugby, Mort Drucker, John Severin, Bob Staake, Emile Mercier, Moebious, Johnny Hart, Dik Browne, Daver Coverly, Patrick McD
Hoşlandığım-
karakter
Charlie Brown, Hagar, Dung Beetle (Swamp), The Angry Beavers,
Hakkımda


Website: www.comic-express.com Artist:Phil Judd Training: Phil trained with television workshop in animation in mid 1980's. He then went on to work with the Hanna Barbera studio's, located in Sydney Australia, for one and half years as inbetweener/animator. Phil then went on to work on the first Footrot Flats film. Phil then went on to study at Art College for two years studying and learning painting drawing and printmaking. First Published: Phil was first published in 1981 when still at school. His first big print achievement was in 1988 in the Australian Woman's Weekly. He also achieved some regular cartoons printed in a gardening magazine at that time. Cartoons Published in: Australian Woman's Weekly, Australian Post Magazine,Your Pet, Urbantails, mivision, Bark, Australian People, Gardening Scene, Boar it up Ya! magazines. Clients Phil has worked for over the years: Planet Media Company founded by Australian cartoonist Gerard Piper. Coloured the 'Trevor' strip and helped create, write and record voices for animations. Has also done a variety of animations for the Kids website 'Kids Network'. Involved in computer processing and colouring for Australian comic strip 'Swamp' by Gary Clark for books printing his daily strip in Sweden, Japan and Australia as well as all the daily and Sunday cartoons. Phil has also been involved in the weekly maintenance and running of the Swamp webiste and it's daily mailout cartoon. Wrote ideas for the comic strip 'Doghouse' and puzzle material for Australian cartoonist and puzzlemaker Dave Allen. Specific Skills Can create wide variety of illustrative/cartooning styles. Creating animations in Flash. Also composes music and plays around eight different instruments. Purchasing Cartoons: Pleas visit www.comic-express.com to enquire about purchasing cartoons or visit http://www.cartoonstock.com/ search.asp?action=search&x=a&keyword= Enter+keywords+here&Category =Not+Selected&Boolean=Or&Artist =Judd%2C+Phil or http://www.cartoonstock.com/ portfolios/Phil_Judd.asp
üyeler comicexpress
(166)