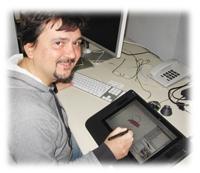 Tufan Selcuk
Izmir, Turkey
itdibaran üye July 29, 2008
www.kirpimizah.blogspot.c...
173 476
Görünümler
14
Yorumlar
3
favori edildi
Çalışmalarım üzerine
İsim
Tufan Selçuk
Doğum tarihi
1965-08-24
Hakkımda


He was born in İzmir in 1965. He graduated from Aegean University, Faculty of Science, Department of Microbiology. He has been drawing various caricatures since 1982. He gained his experience in the comics called ''Gıcık'' , which has been published as the addendum magazine of the newspaper ''Yeni Asır''. He worked at magazines 'Gırgır' and ' Fırt' for a while. He also drew for comic magazines published out of İzmir called ''Mustafa'' and ''Sinek''. He then worked as a graphic designer for some agencies and packaging industry. He participates in caricature contests and exhibitions on occasion. A member of the Caricaturists Association, Tufan Selçuk has been working for the newspaper 'Yeni Asır' since 2000 as a graphic designer and a caricaturist.