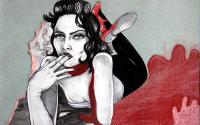 MontseCastellano
"´Mc"
Barcelona, Spain
itdibaran üye August 04, 2009
www.montsecastellano.com
12 424
Görünümler
0
Yorumlar
1
favori edildi
MontseCastellano Galeride
(7)


Çalışmalarım üzerine
İsim
Montse Castellano
Doğum tarihi
1980-02-02
Eğitim
Edinburgh College of Art ,Scotland
tarz
hand drawing and digital drawing
kullandığım aletler
pens,pencil, gouache,watercolors,inks..
Etkilendiklerim
figurative, fashion, patterns and textile.
Hakkımda


I´m a freelance artist, freelance ilustrator, freelance human being, a love drawing, specially people´s expressions, particular characteristic in their features.I draw and paint from figurative realistic style to more comic style, I love experimenting with different materials, color as much as monochrome. I work and live in Barcelona.