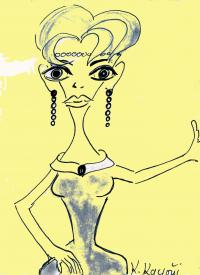 KatrinKaciOui
Essen , Germany
itdibaran üye November 01, 2009
215 713
Görünümler
85
Yorumlar
16
favori edildi
Çalışmalarım üzerine
İsim
Katrin Djamilla Kacioui
Doğum tarihi
1900-04-21
Eğitim
self learning by doing - hobby-
tarz
mal so-mal so ,times so-so,fois so-so
kullandığım aletler
Bleistrift,Fineliner,Kreide,Kohle,Acryl..
Etkilendiklerim
Oma,Mama,Papa,Disney,1001Nacht ,Fantasie.
Hoşlandığım-
karakter
Elfen Feen Schrullen Tierchen ..etc
Hakkımda


♥ Wer ich bin das fragst Du mich ? Ich bin Vergangenheit und Zukunft. ich bin hier und jetzt Was immer Du nur sehen kannst, in mir . Was immer Du nur sehen willst , in mir und doch , bin ich nur die ich bin, so wie ich gerade bin , wann immer Du mich siehst im Hier und Jetzt . © K.J.KaciOui ♥ Wer gegen den Strom schwimmt erreicht die Quelle und wer mit dem Herzen lebt, die Liebe auch wenn es manchmal weh tut oder fast zerbricht. ♥ Mögen die Schicksalsstürme Dich hinauf tragen auf das Du mit den Sternen tanzt.. ♥ Lass die Hunde bellen, zieh wie die Karavane friedlich weiter... ♥ Cest la Vie ♥♥♥♥♥♥♥♥♥♥♥♥♥♥♥♥♥♥♥♥♥♥♥♥♥♥ Who I am You ask me that? I'm past and future. I'm here and now Whatever you can only see in me. Whatever you want to see only in me and yet, I'm just that I am, as I am straight, whenever you see me Here in and now. © K. J. KaciOui ♥ Anyone who swims against the stream reaches the source and he who lives with the heart, love even if it sometimes hurts, or nearly broken. ♥ Let the fate of Storms You take up to you with the stars dancing .. ♥ Let the dogs bark, dressed as the caravan peace more ...