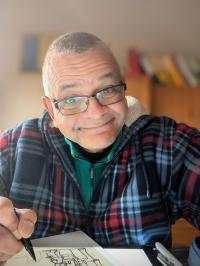 Karsten
"Just draw it!"
Hamburg area, Germany
itdibaran üye August 23, 2008
www.schleycartoons.com
13 849 945
Görünümler
6 202
Yorumlar
125
favori edildi
Çalışmalarım üzerine
İsim
Karsten Schley
Doğum tarihi
1965-08-24
Eğitim
Middle School
tarz
Pencil, Faber-Castell Pens
kullandığım aletler
Photoshop
Etkilendiklerim
Gary Larson, Callahan, Hergé, The Charlie Hebdo guys and many others.
Hoşlandığım-
karakter
More than one.
Hakkımda


I'm married, we've got two daughters. I'm drawing since age 8. 7 books illustrated, my stuff got published at Die Welt, Euro, Kölner Stadtanzeiger, Oxford University Press and other publications. I'm working for cartoon agencies in Germany, England and Italy.