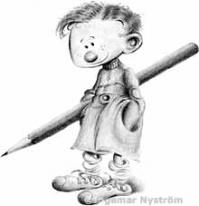 Ingemar
"Beauty is the only thing that lasts"
Södertälje (Sodertalje), Sweden
itdibaran üye February 08, 2008
www.ingemarnystrom.nu
87 674
Görünümler
7
Yorumlar
0
favori edildi
Çalışmalarım üzerine
İsim
Ingemar Nyström (Nystrom)
Doğum tarihi
1956-04-15
Eğitim
Mostly self-taught, autodidactic
tarz
Pencil, ink, watercolor and oil
kullandığım aletler
Same as above on paper, and computers
Etkilendiklerim
Life
Hakkımda


Illustrator and artist. Illustration: Paints nearly everything from cartoons to realism. Artist: Mostly birds, nature and animals.