irene brandt
Portrait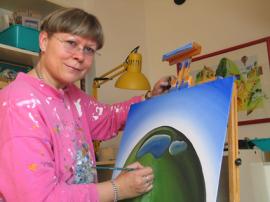 irene brandt

Meine Kunst für Ihr Lächeln – my art for your smile

Die Autodidaktin Irene Brandt lebt in Hürth bei Köln. Ihre humorvolle, farbenfrohe naive Kunst wurde in mehr als 20 Ländern ausgestellt und ist in 13 internationalen Museen vertreten:

MIAN – Museu Internacional de Arte Naif do Brasil, Rio de Janeiro,
Musée International d'Art Naif de Magog, Magog-Quebec/Kanada,
MIDAN – Musée International d'Art Naif, Vicq/Frankreich,
The Croatian Museum of Naïve Art, Zagreb/Kroatien,
Museum of the Americas, Doral-Miami/Florida, USA,
Museo Rómulo Raggio, Vicente López-Buenos Aires/Argentinien,
House of Humour, Grabovo/Bulgarien,
Museo Cesare Zavattini, Luzzara/Italien,
Musée d'Art Spontané, Schaerbeek-Brüssel/Belgien,
Museum of Naive Art, Jagodina/Serbien,
M.A.N. Musée d'Art Naif, Béraut/Frankreich,
LM Cartoon Museum, Nanjing City/China,
Surgut Fine Arts Museum, Surgut/Russland.


Motive von Irene Brandt wurden auf UNICEF-Grußkarten in mehreren Ländern veröffentlicht und sind auf vielen anderen Grußkarten, Kalendern und als Kunstdrucke erschienen.

Für Irene Brandt ist die Malerei ein Spiel mit Farben und Formen. Thematisch möchte sie sich nicht festlegen, manche Ideen kehren immer wieder: Seifenblasen, Papierboote, Ballons, stilisierte Berge oder überdimensionale Fische.

Mit der bunten Farbgebung und dem humorvollen Ausdruck sowie eine immer heiteren Grundstimmung ihrer fantasiereichen Motive möchte sie den Betrachter zum Schmunzeln anregen und eine positive Weltsicht vermitteln.